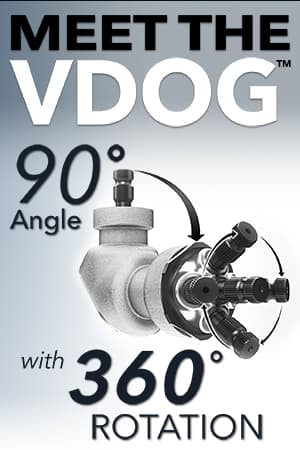 Flaming River's VDOG® is the Steering Angle Solution You Never Knew You Needed
The VDOG® from Flaming River is the solution for that tight turn at the firewall that comes with today's larger engines. You've heard the name – VDOG® - but what exactly is it? Why do you need one? Let's get into the details.
In today's classic car, muscle car and hot rod market, it's very common to upgrade to a larger modern-day engine such as a LS engine or even a Coyote or Hemi engine. As these engine swaps become more common, we find builders running into one common problem: how to get the steering shaft through the tight clearances caused by using a larger engine. Well, we have the solution.
So, what is the VDOG®? The VDOG® was something that was created by our team here at Flaming River Industries in Berea, Ohio. The VDOG® was designed as a 90-degree angle gear to help solve tight steering angle issues. VDOG® stands for Variable Degree Operational Gear, and when we break the unit down, it's clear to see why. On one end of the unit, you have a fixed shaft that is ¾"-36 spline and on the other end, you have a variable degree gear with a ¾"-36 spline shaft as well. This unit is unique in that it isn't necessarily a universal joint, nor is it a gearbox – it's essentially both.
Let's take a look at what is inside. The variable angle side allows for 360-degree rotation at a +/- 35-degree angle which is accomplished via a universal joint. Inside you will find a hardened gear drive system that allows for the unit to provide a 1:1 steering ratio from one side to the other. The hardened gear drive system means that there are no chains or sprockets to fail and the system is lubricated from Flaming River and should never need to be opened up and maintained. So, no matter what angle the variable side is at, the stationary side will still turn at the same rate.
We have used the VDOG® on several of our own projects including our 1949 Dodge Pick up Truck. In this application, it was mounted by the rack and pinion rather than at the firewall. In our 1954 Chevy pick up, it was mounted at the firewall to make the turn. And finally, we have had several customers that have two in their system – one at the firewall and one at the steering box for a truly radical ride!
The VDOG® provides clearance and the ability to make tight turns. It can be used in almost anything from Cab overs to muscle cars. If you've ever installed a LS engine with aftermarket headers, you know what a perfect solution this product is for your project. In fact, this unique design took home two trophies from the 2019 SEMA Show… Best Engineered Product and Best New Street Rod Product.
Keep the VDOG® in mind for your next project!
---