Q: What different styles of columns does Flaming River offer?
A: Flaming River offers a variety of Tilt Columns and Non-Tilt Columns available in a wide selection of lengths and sizes. Floor Shift Tilt, Column Shift Tilt and Tilt Key Columns are our most popular. Key columns can be made in either a Floor Shift or Column Shift style. Our columns come in three finishes: Paintable Mill Finish, Black Powdercoat, and Polished Stainless. Output shafts come in 1"-48 splined shaft, 3/4"-36 splined shaft, and 1" DD shaft.
To see all of the different types of Steering Columns that we offer, click here.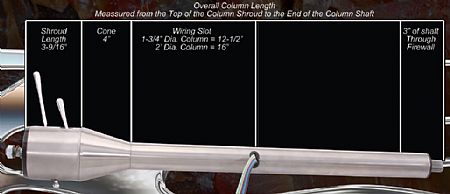 Q: How do I determine the length of the column I will need?
A: Many popular vehicle applications have standard sizes already determined for them – use the Product Selector Tool on the left hand side of this page and enter your vehicle's Make, Model, and Year, or visit our Browse by Vehicle page to see if we have a standard size to retrofit your vehicle. If you don't see any results for your vehicle, call us at 1-800-648-8022.
For more custom applications, the best thing to do is sit in your vehicle's driver-side seat and get a feel for where the steering wheel would be most comfortable for you, and measure from there to the firewall. A general rule of thumb for measuring:
Desired Column Length = 7-9/16" Shroud Length + Distance to Firewall + 3" Shaft Through Firewall
Getting the correct length steering column can make or break the way a car feels. Having a column that is too long inside the car can make you feel cramped or crowded while driving. If the column is too long and goes through the firewall too far, it can cause a binding in the U-Joints and shafts.
On the flip side, having a column that is too short can also affect driver comfort. If a Column Shift Column is being installed and does not go through the firewall enough, it can cause interference with the lower shift arm and you will not be able to change gears properly.
Q: What if I don't see a column listed in your catalog or on your website for my specific vehicle application?
A: Chances are good that we have a column to fit your steering needs. Contact Flaming River's Tech Support Department at 1-800-648-8022 or [email protected]. One of our friendly Sales reps can recommend a column for your specific vehicle, or help you build a perfect fit through our Custom Column Manufacturing Program. We can custom build a Non-Tilt Roadster Column, Floor Shift Tilt Column, Column Shift Tilt Column, or Key Tilt Column to your exact specifications!
If you're interested in building a Custom Column, please review the appropriate custom column order forms below and then contact one of our Sales Reps. They'll take down your information, make sure they understand what you're looking for, and then ask you to send the order form in. From there, we'll take care of the rest!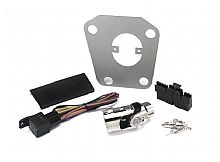 Q: What other parts will I need to complete the installation of my column?
A: We offer a number of Column Installation Kits designed specifically for a variety of classic vehicle applications–including Mustangs, Camaros, Chevelles, Novas and more. Each kit can include installation materials like U-Joints, wiring harness with hazards, column mount, horn contact kit, and horn relay.
To see a wide selection of Billet Accessories (Column Drops and Floor Mounts) and Electrical Accessories (Dimmer Switch and Cruise Control Kits, etc.) browse our complete collection of Column Accessories.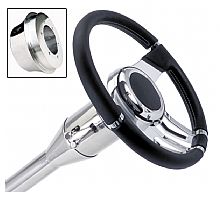 Q: What is the best way to mount a steering wheel to a Flaming River column?
A: Flaming River has a wide assortment of Steering Wheel Adapters to fit original or aftermarket steering wheels to our columns. The universal 5 and 6 Bolt Wheel Adapters contain the pattern for both 5 and 6 bolt steering wheels, so getting the perfect fit is even easier. Certain steering wheels, like the WaterFall (shown here), even have their own adapters to mount to a Flaming River column or original stock column. We also offer 3 Bolt Adapters, 9 Bolt Adapters, and a number of adapters for Corvette and Mopar applications.
Browse our wide assortment of Steering Wheels and Steering Wheel Adapters.
Q: Do you have any tips for wiring a new column?
A: One of the most common errors during column wiring happens when someone is replacing their stock OEM steering column. They will remove the factory original column without verifying the wire colors for the turn signals. Many people assume that their car has the original wiring and that someone has not gone in and tinkered with it at some point in its lifetime. Before you do anything else, check that the wiring is still in good condition and make note of the colors of the wires that operate each turn signal—this can save you major headaches!
In fiberglass bodied cars, make sure that the column is grounded properly. An improperly grounded column can cause the horn and turn signals to work erratically, or not at all. You can avoid this hassle by attaching a ground strap from the column to the vehicle chassis.
When using LED style lighting for your turn signal and brake lights, a standard flasher cannot be used. LED style lights do not pull enough current to cause the flasher to open and close the circuit. A special LED flasher must be used for correct turn signal operation.
If you need help deciphering the colors of the wires that came with your new Flaming River column, you can refer to our Wiring Diagram.
Q: How do I set the cancelling cam to get my turn signals to operate correctly?
A: The canceling cam has two functions: First, it acts as a contact for the horn. Second, it cancels, or turns off, the turn signals as the steering wheel comes back to the straight-ahead position.
When the canceling cam is not clocked or timed correctly in the column, the turn signals will not cancel, or they will cancel too quickly. To properly clock or time the canceling cam, you should look at the top of the column like it's the face of a clock. On the canceling cam itself, there is a stem that sticks up approx 1-1/2". Imagine this stem as the hour hand on a clock and place it at approximately the 10:30 position. This will ensure that the turn signals will cancel every time.
If you need additional help, please refer to this article or these videos — non-keyed columns or keyed columns.